Managing Virtual Machines with the VMM Administrator Console
From Virtuatopia
Ultimately, virtualization is all about running and managing virtual machines. It should come as no surprise, therefore, that a key role of VMM 2008, and the VMM Administrator Console component in particular, involves managing the life-cycle of virtual machines. VMM 2008 provides a central administrative interface for the management of any number virtual machines distributed over an equally broad number of potentially widely distributed host systems running both Hyper-V and VMware ESX Server technology.
The breadth of support for virtual machine management within VMM 2008 is such that there is no task that can be performed using the Hyper-V Manager that cannot also be performed using VMM 2008 and the VMM Administrator Console (assuming that the user in question has been assigned appropriate role permissions).
The objective of this chapter is to provide step-by-step guidelines on managing all aspects of virtual machine life-cycles using VMM 2008. The chapter assums some level of familiarity with the VMM Administrator Console with regard to starting the console and connecting to a VMM Server. For more details on this topic area refer to the chapter entitled A Guided Tour of the VMM Administrator Console.
Creating Virtual Machines
Perhaps one of the key tasks when managing virtual machines is the creation of new virtual machines, either on a local or remote host. New virtual machines may be created by cloning an existing virtual machine, using a pre-existing template or configured completely from the ground up. Creating virtual machines from templates was covered in detail in the chapter entitled Creating and Managing VMM 2008 Virtual Machine Templates and cloning of virtual machines will be covered later in this chapter. Creating a new virtual machine and configuring entirely from new is performed by selecting the new virtual machines link located in the Actions pane of the VMM Administrator Console Virtual Machines View. This will display the New Virtual Machine wizard.
On the first screen, choose whether to create a new virtual machine using a blank virtual hard disk, or to use an existing hard disk or template. For the purposes of this tutorial, select the option to use a new blank disk and click Next to proceed to the Virtual Machine Identity screen. On this screen, enter a name for the new virtual machine and specify an owner if the default option is not acceptable.
Click Next to proceed to the Hardware Settings screen. On this screen, configure the hardware configuration for the virtual machine: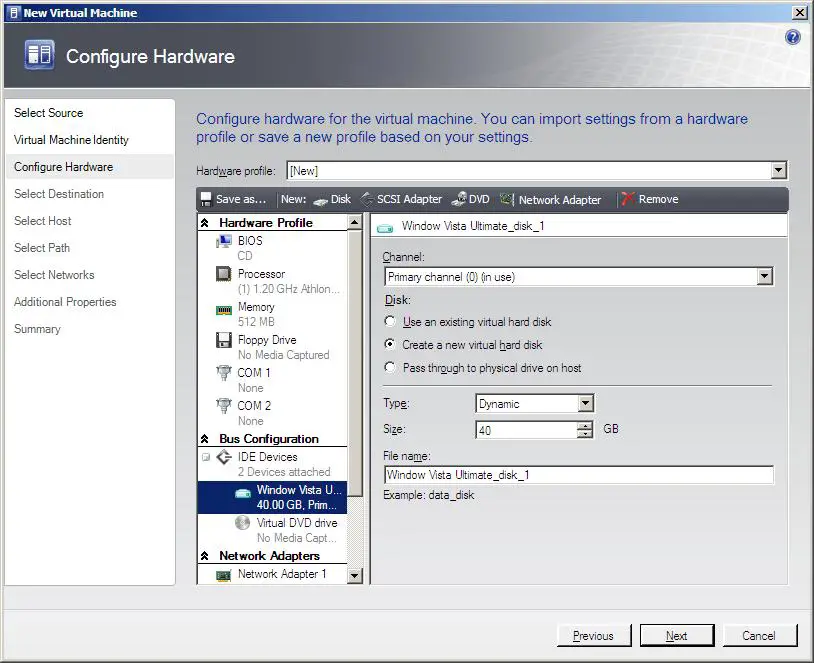 This page allows the following hardware settings to be configured for the profile:
BIOS - Boot device start-up order and initial Num Lock key settings.
CPU - CPU type, number of CPU cores assigned to the VM and CPU functionality setting for legacy guest operating systems.
Memory — Amount of memory to be allocated to the virtual machine.
Floppy Drive — Optional virtual floppy drive.
IDE/SCSI Controllers - SCSI and IDE Controllers to which virtual hard disk, CD and DVD drives will be connected.
Disk Drives - Allows disk drives to be added to the virtual machine. Disks may be virtual disks, pass-through disks which map through to physical disk drives connected to the host, or pre-existing virtual disks. In the case of new virtual disks, the size of the disks may also be configured.
CD/DVD Drives - Virtual CD/DVD drives. Mapped either to physical devices or to ISO file images.
Network Adapters — Virtual network adapters for the virtual machine.
Priority - Specifies priority for virtual machine when CPU resources are allocated on heavily loaded hosts.
Availability — Whether or not the virtual machine should be assigned to a clustered server.
Once the hardware has been configured, the Next button displays the Select Desitination screen. Options are provided to create the virtual machine on a host now, or to have the virtual machine stored in the VMM library from where it may be deployed to a host of your choice at a later time.